In my last blog, I explored past media ecology, specifically print media and radio, and its role on the broadcast of women's sport. This blog is going to explore how digitalised 'print' media portrays women's sports.
Media ecology has changed drastically in the last few years, with radio and newspapers taking a backseat in the sports broadcasting world in order to make way for new forms of media. The digitalisation of the world has allowed for television and the internet to become the main forms of media for sport broadcast. These new forms of media allow sports fans to keep up to date and follow their favourite sports, teams and athletes 24/7 (Gantz and Lewis, 2014) due to their accessibility. Online news websites have become the new digitalised version of newspapers, providing sporting news articles and video clips of sporting events.
There are contradicting findings on whether the newer forms of media have been beneficial for the broadcast of women's sports. I went onto the BBC Sport homepage to compare the number of women's sports and men's sports that were featured. Below are the screenshots of the top 14 features sports stories from the 27th of February 2021.
As you can see from the screenshots, only 2 of the 14 featured sports stories on the BBC Sport homepage were about women's sport. This clear imbalance poses a question – is the lack of media coverage the reason for women's sport not being as popular? Or is women's sport generally not being as popular as men's the reason for a lack of media coverage?
To help answer this, The Women's Sport Trust conducted their own research by studying the websites of BBC Sport, The Guardian, The Telegraph and Sky Sports between April 29th 2019 and 11th August 2019. Their findings concluded that women's sport featured in the top 5 news stories on 20% of the overall days monitored. They also found that between the 7th June 2019 an 14th July 2019 (Women's FIFA World Cup and Wimbledon), 45.7% of the top ten stories on BBC Sport featured women's sport and 54.5% of their 'most watched' video clips were of women's sport. The other websites offered a higher percentage of women's sport stories between these dates, with The Telegraph featuring 30.2% and The Guardian featuring 28.3% (The Women's Sport Trust, 2019).
These findings highlight that women's sport does get the recognistion by digital media outlets when women's events are happening. The findings from Petersen-Wagner's blog can support this. As shown in the graph below, Petersen-Wagner (2020) analysed 1613 news items from BBC Sport between the 7th April 2019 and 17th June 2019 in order to compare the broadcast of men's and women's sport. He found that on dates where women's sporting events took place there were clear peaks in reporting.
In regard to whether there is consumer demand for women's sport in order for it to receive a higher amount of media coverage, YouGov conducted a study whereby they asked a portion of the British public whether they would like to see more coverage of women's sport. As shown below, 69% of people who were asked this question were in support of equal media coverage. However, only 26% of those people would be in support of equal media coverage if that meant there would be less men's sport coverage as a sacrifice (YouGov, 2020).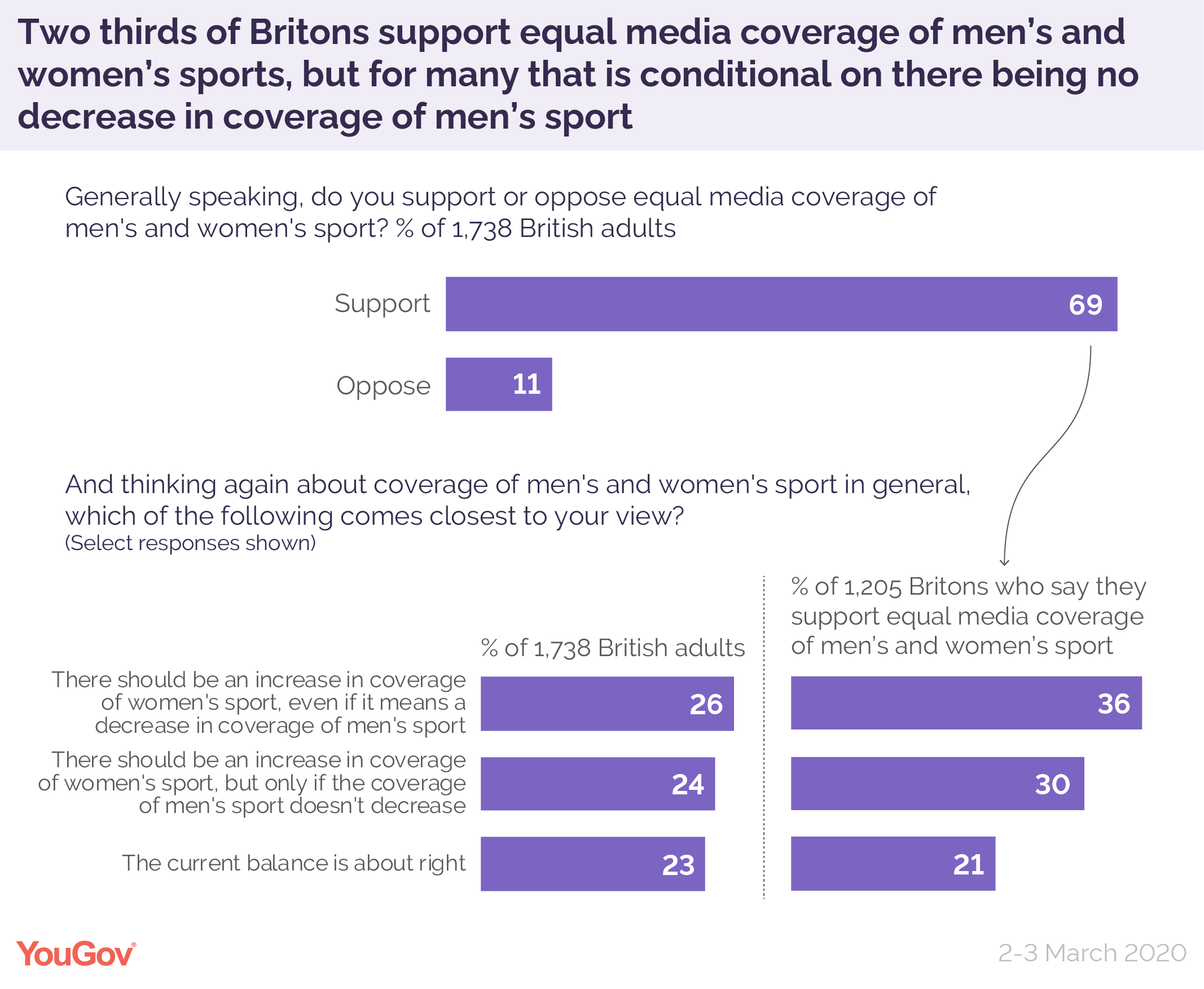 To answer the proposed question, I think that the lack of demand for women's sport is due to the lack of media coverage women's sport receives. The findings by The Women's Sport Trust and YouGov prove this, therefore, equality can be gained if media coverage of women's sport becomes constant.