Hello and welcome to my media transformation series! This is the first blog post of the series and will start to dissect how sport was covered and consumed by fans in more traditional times through three main forms of media.
The word media can hold a vast range of aspects when explaining its definition, especially in today's multi-dimensional world. However, the core form of media is a means of mass communication in which information is transferred to, and by, one another through a particular way (Rayney and Bryant, 2006). Sport media can date back as far as Ancient Greek times, when their equivalent of our media involved any public form of mass media, whether that be sport-related architecture or sports-associated literature including transcripts (Rayney and Bryant, 2006).
As we move through the years we start to see how evolution changed our lives in many ways, and sport was no exception. In fact, sports was seen by many publishers and authors to be the gateway to success in later years. The ways in which sport created a pathway for success are through these three main forms:
Print Media

Print media Sport news has a long tradition with newspapers all around the world with the first sports stories dating as far back as the 1700s in America (Wanta cited in Raney and Bryant, 2006). As time went by, we began to see more and more newspapers beginning to report on sports stories and by the late 1920's sports coverage was firmly embedded within the nation's newspapers (Wanta, cited in Rayney and Bryant, 2006). Newspapers fast became one of the first and most important ways people accessed sport. Fast forward to the present day and there are still ethical and unsociable practices that occur in our newspapers. Authors and publishers are in a constant battle between with each other to get the biggest scoops regarding athletes and be the first to publish and report on sports stories, even if they're not related to any specific game or event!

Below is an example of how a newspaper can sometimes stray away from the sports themselves in order to get the best front page, delving into the private lives of professional athletes to compete for the biggest scoop. Let me know what your favourite sports headline is in the comments!

Ex England footballers Wayne Rooney and Jamie Vardy have their private lives publicised as their wives go head to head in phone leaks! (Daily Mail, 2019)

Television

As with newspapers, television was (and still is) a catalyst for the total exposure of sports that we see today. Aired primarily on only weekend afternoons in the 1950's and 60's, sport quickly started to gain more and more coverage expanding their television time to weekday afternoons and even prime time with the help of devoted sports programming networks such as ESPN and BSkyB in the later 1970's (Gantz, 1981; Wood and Benigni cited in Rayney and Bryant, 2006). Due to this surge in these programming networks and increase in coverage, sports now can not only be accessed 24/7 but also through multiple viewing choices.

BT Sport now offers on the go, interactive viewing of sport! What's your favourite sport to watch?

Radio

It can be easy to see why sometimes radio can be viewed as 'old technology' due to the newer, perhaps more accessible forms that we spoke about earlier. And when we talk so much about newspapers and televisions, it can be easy to sidestep the mature broadcast form due to the multimedia dimension the others offer today, such as BT Sports interactive mobile app (Owens cited in Rayney and Bryant, 2006). The radio can provide something that his other two mates can't, and that is imagination. With only audio coverage of sports being portrayed, it allows sports fans to create their own imagery of the game which supplies a sense of attendance (Owens cited in Rayney and Bryant, 2006). The effect that radio has had on the world of sport should not be understated and the tradition of radio lives on today, continuing to build a strong, symbiotic relationship with sport.

Do you listen to sports on the radio? If so, leave me a comment below and let me know what your favourite thing is about listening to the radio.
Where are we today?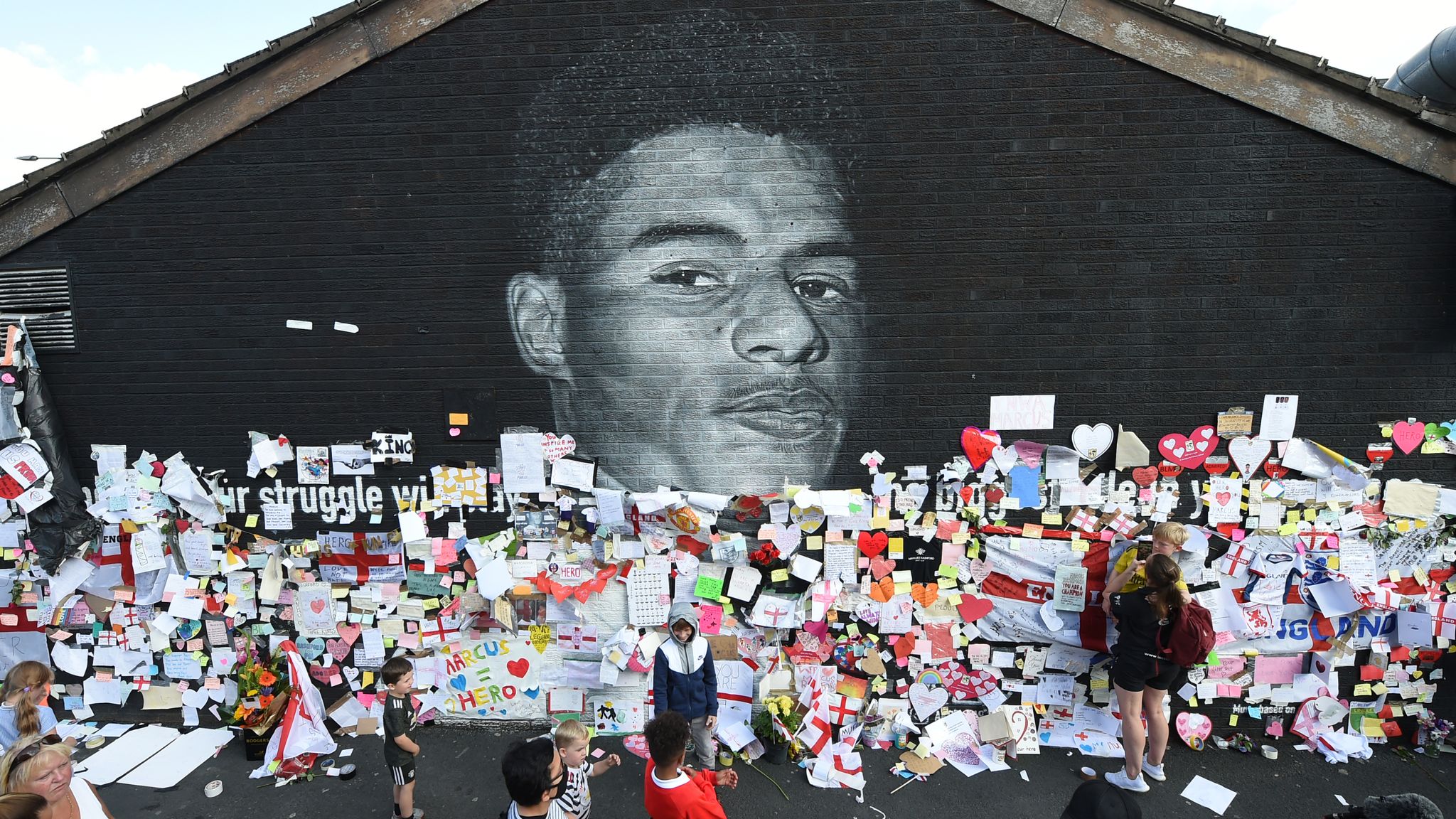 It is clear to see that although the world is developing into an ever expanding society, the foundations on what they are built on are still around today and are as important as ever! This image shows a mural of Manchester United and England striker Marcus Rashford, displaying signs of the type of ways mass media was broadcasted in the Ancient Greek era, indicating the impact their ways and traditions has had on our sporting society as we know it.
Throughout this series, there will be more analysis of these important mass media forms and the way in which it will affect our future, from the newest social medias to the impact of gamification on football and whether concepts such as fantasy football are affecting live attendances! So stick around and join me on my next blog. See ya!