Digital disruption is a transformation caused by emerging technologies that challenge the existing products and services that are offered in the particular industry. In the sporting world, this refers to newer technology such as the internet and smartphones challenging mediums such as television as the audiences preferred way of consuming sport. This 'disruption' is due to the ease of access of these digitalised mediums compared to the appointment nature of television (Lopez-Gonzalez et al., 2017). In this day and age, nearly everyone owns a smartphone or can access the internet, meaning they can stream and watch sport at any time in any place.
The word 'disruption' often holds a negative view about these new forms of media, therefore some refer to digital disruption as digital transformation instead as it is a more accepting term for this change. As the world is evolving to become more digitalised, broadcasters and sports media outlets must accommodate and embrace new technology in order to keep up with the consumer demands and preferences, especially as 79% of sports consumers use a second screen when watching a live sporting event (Kolbinger and Knopp, 2020). This relates to spreadable media which I speak briefly about in my video podcast.
Most forms of technology have had a positive impact on the viewers' experience when watching sport and has enhanced the game. However, certain forms of technology have not had as much of a positive impact on sports as others. An example of this would be of the use of the Video Assistant Referee (VAR) in elite-level football. VAR was officially introduced into football matches in 2018 with the prime purpose of correcting obvious errors or serious missed incidents related to goals, penalties and bookable offences. This new form of technology was seen as a tool to make the game fairer, however, there has been a lot of differing opinions regarding VAR amongst fans. This is due to VAR being the cause of some controversial decisions. BBC Sport reported that 59% of football fans over the age of 55 agreed that VAR has made football worse.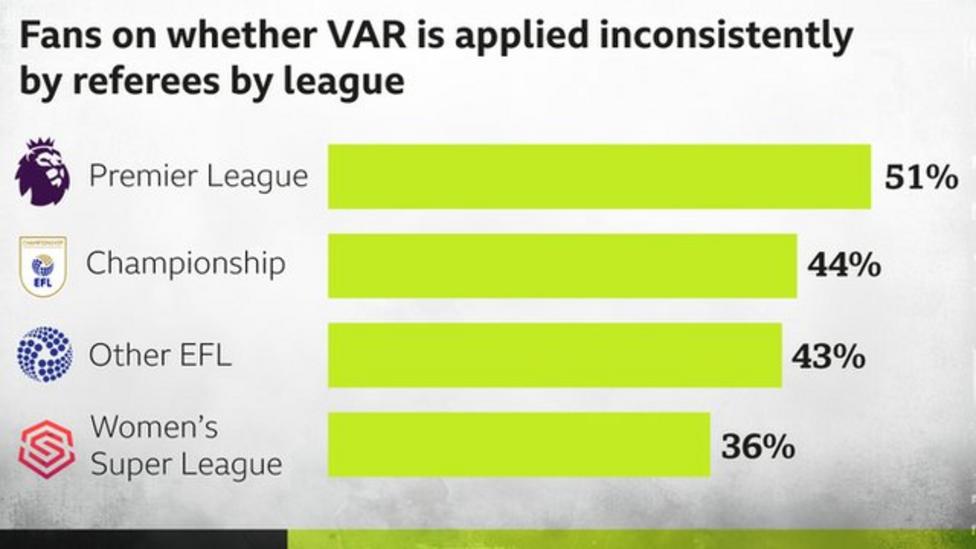 In terms of women's sport, digital disruption has arguably increased the awareness and broadcast of many different female sports. An example of this is the Vitality Netball Superleague, whereby the games are now streamed live on YouTube which makes watching the games a lot more accessible for fans as YouTube can be downloaded onto any smartphone and watched anywhere. This is the same for women's football which I have talked about in a previous blog.
VAR is used in the Women's Super League. As seen in the picture above, only 36% of people think that the referees apply VAR inconsistently in this league, a figure much lower than that of the Premier League. Casey Stone, Manchester United Women's manager, states that she doesn't like the technology as it takes away the drama of the game. She also states that she would prefer to see goal line technology implemented instead of VAR. Hawk-Eye, the goal line technology used in the Premier League, has played a huge role in Premier League matches since it was implemented in the 2013/14 season. The Women's Super League is falling behind massively as goal line technology has not been introduced into women's football yet, apart from in FIFA Women's World Cups. This shows that some forms of 'digital disruption' have not even made it to women's sport yet, amplifying the inequality between male and female sports.
Do you agree that digital disruption is positive for the world of sport? Do you agree with the use of VAR in football? Do you think that women's football should be offered the same technology as men's football? Let me know in the comments.